Networking
Services
Tele-Systems,Inc.
140 Powell Ave.
Darby, PA 19023
610.534.0530
Whether your company is looking to fix or completely revamp your existing computer network, or you are a small company that is growing and don't have a network at all, TSI can design and install a system that fits your needs exactly.
Computer Networking is designed with growth in mind, meaning no company is too small. As your company grows your network will as well, making it easy to add computer work stations as you need them.TSI can network 5 to 300 workstations.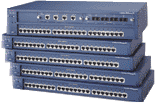 If you are any business with 5 or more workstations, or have a need for staff members to have easy access to other computers or a main work station, then you should invest in Computer Networking.
Please contact us for more information. A technician will be happy to answer any questions you might have.
TSI can also provide you with the network server that your computer network will need to run. We offer Windows XP server, Windows NT Sever and Windows 2000 Server/Client. In addition to these systems, we also offer Windows Peer to Peer Networking.