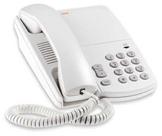 Merlin 4400 is a digital single line phone that functions like an analog phone but is supported on a Two-wire Digital Line (TDL). Ideal for customers that only require basic communications.

Merlin 4400D+ same as the 4400 but with a 2 line, 16 character LCD, used for caller ID or Time and Date. It also includes Conference, transfer and redial.
Merlin 4406D+ is a multi-line phone with a 2 line 16 character display. It also includes 6 user programmable buttons with dual red and green lights. It also has conference, transfer and redial.
Merlin 4412D+ this is also a multi-line line phone with a 2 line, 24 character LCD display. It has 12 programmable buttons and 12 feature only buttons. The 4412D+ also has 4 soft keys that allow activation of systems features and 4 navigation keys to browse through menus.
Merlin 4424D+
another multi-line phone with 2 line and 24 character display, this phone has 24 programmable buttons. 5 fixed buttons and may be used by attendant operators as a Direct Line Console.
Merlin 4424LD+ comes with a 7 line, 24 character VFD Vacume Florescent Display. It also has 24 programmable feature buttons, 10 soft keys and 4 navigation keys.